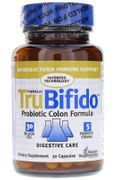 TruBifido Probiotic Colon Formula by Master Supplements contains 30 billion CFU of Bifidobacteria to promote colon health.

The five strains selected were chosen for their superior efficacy and compatibility with each other, and they work together to support regularity, boost immunity, and fortify your colon so you can stay well.

• Supports digestive and immune health
• 30 billion CFU per dose - 5 probiotic strains
• Supports gut health and regularity
• Support for relief of digestive issues including: gas and bloating, heartburn
• Has been laboratory tested to meet strict quality control standards
• Gluten Free, Dairy Free, Nut Free, Soy Free, Vegan, Non-GMO

Deep Delivery: Master Supplements unique delivery system utilizes sodium alginate to protect TruBifido as it travels through your stomach, enabling the probiotic bacteria to pass through unharmed, providing deep, targeted delivery to your gut.

Prebiotic Stimulation: TruBifido contains LactoStim, a patented prebiotic combination of lecithin and oleic acid. When combined with probiotics, LactoStim promotes the healthy, rapid growth of all beneficial bacteria enabling a quick return to comfort and wellness.

TruBifido ingredients in 1 capsule:
Probiotic Blend
Bifidobacterium lactis (BL-04) 21 billion CFU
Bifidobacterium bifidum (BB-06) 2 billion CFU
Bifidobacterium lactis (Bi-07) 3 billion CFU
Bifidobacterium lactis (HN019) 2 billion CFU
Bifidobacterium breve (BB-03) 2 billion CFU

Other Ingredients: microcrystalline cellulose, sodium alginate, hydroxypropyl methylcellulose (capsule shell), tri-sodium phosphate, magnesium stearate, silicon dioxide, ascorbic acid, Lactostim (sunflower lecithin + oleic acid), calcium silicate.

This product does not contain milk, eggs, gluten, wheat, soy, casein, nuts, seafood or beef products.

Suggested Use:
Adults 1 capsule daily for two weeks. Thereafter, take 1 capsule every 3 days to maintain digestive care. If additional supplementation is desired, return to 1 capsule daily use. TruBifido can be taken with antibiotics; allow at least 3 hours of separation. Best if refrigerated. Refrigerate upon arrival.

Discontinue use and consult your healthcare practitioner if any adverse reaction occurs. If you are pregnant, nursing, taking medications or have a medical condition, please consult your healthcare practitioner before use.

Keep out of reach of children.