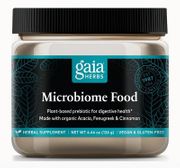 Microbiome Foods by Gaia Herbs is a pleasant plant-based prebiotic powder with Cinnamon and Ginger that helps support digestive and immune health.

Gut health is the foundation for overall wellness. Prebiotics offer the nourishment that your healthy digestive flora need to thrive within the GI tract.

• Contains Larch, Acacia, Acerola, Inulin, Fenugreek, Cinnamon, Ginger, and Marshmallow.
• Supports digestive health, function and regularity
• Formulated with herbs traditionally known to soothe digestive upset, including relief from occasional gas, bloating and cramping.

This powder is convenient to use and mixes easily in water. Made without added fillers, flavors or sweeteners.

Microbiome Foods ingredients in 1 tablespoon:
Dietary Fiber 3 g
Soluble Fiber 2 g
Insoluble Fiber, less than 1 g
Calcium 55 mg
Iron, less than 1 mg
Sodium 20 mg
Larch gum extract 1664 mg
Organic Acacia (Acacia senegal) gum 1343 mg
Organic Acerola (Malpighia glabra) fruit extract 1110 mg
Organic Inulin (from Agave tequilana heart) 848 mg
Organic Fenugreek seed 505 mg

Harmonizing Digestive Blend: 1319 mg
--Organic Cinnamon bark
--Organic Ginger (Zingiber offcinale) root
--Organic Marshmallow (Althaea offcinalis) root

Other Ingredients: Vegetable glycerin, sunflower lecithin, water, vegan capsule (hypromellose), vegan capsule (chlorophyll).

Suggested Use:
Adults take 1 teaspoon daily between meals, mixed in 4-6 oz of water, or as directed by your healthcare practitioner. Gradually increase to 1 tablespoon daily.

Avoid using this product if you are pregnant or nursing. Consult your healthcare practitioner prior to using this product if you are taking medication or have a medical condition.

Keep out of reach of children.